Tl;dr Gigabyte USB 3.2 Gen2x2 PCI-E Card, will power and connect to an Oculus Quest 2 over the Oculus Link Cable.
Updated with multiple edits after testing was completed.
ENV: 1150 Socket CPU, recent upgrade to RTX 2070 Super Card. No native USB-C on the mobo and no VirtualLink or other USB-C port on the Card.
Oculus Quest 2 VR Headset, Oculus Link USB-C 3.2 Fibre-Optic Cable.
Cliff notes, with the environment above we successfully tested a USB-C PCIe Addon card and were able to connect an Oculus Quest 2 to a 4yo gaming computer with upgraded RTX2070 Graphics..
Disclaimer: Use of suggestions from this post at your own risk, no liability on this blog is expressed. Don't be an idiot.
Full story: A good mate of mine has a 4 year old 1150 Socket (i5-4460, 4C, 3.2Base) Mobo with a H97 chipset, he just upgraded Graphics Card to a Gigabyte GeForce RTX 2070 Super Windforce OC 8GB Card ($400AUD bellow RRP with RTX30 series launch, not stocked anywhere anymore btw). No native USB-C on the mobo and no VirtualLink or otherwise USB-C port on the Card.
He also just got an Oculus Quest 2 with the Oculus Link USB-C 3.2 Fibre-Optic Cable (As pure speculation on the makeup of this cable; id say this cable is a single strand of single mode (SMF) fiber carrying 1310 nm one way and 1550 nm wave length the other way with built in fiber tx and rx modules at each usb-c connection. With at least two power cores for power delivery (maybe 1.25-2mm2 cross sectional area stranded copper, with the "spiral shielding doubling as earthing" surround listed in the spec table). The spec also states (Max) CABLE BEND RADIUS = 20 mm.
He was running /okay/ on a USB2 A to C 3m cable (limited bandwidth but usable, lower display resolution when the scene was being rendered by the computer) but wanted to be able to use the $120AUD link cable he purchased.
We ended up testing with the Gigabyte USB 3.2 Gen2x2 PCI-E Card, USB Type-C port (Scorptec, I have no affiliation, just a good supplier) which arrived early december.
The Gigabyte card is a single port USB-C 3.2 Gen 2×2 (20Gbps) transfer mode capable card that connects into a PCIe Gen 3 x4 Slot and outputs out the back of the case. Oculus Link only requires USB-C 3.2 Gen 1 (5Gbps) transfer mode, which this card supports but also makes it over spec for our requirements.
Power:
The Oculus Link also requires a 3A capable power supply, and this is where it got experimental. The Gigabyte card does not directly list its Power Delivery Capabilities. As only the +12V rail is available to the card over the PCIe slot (plus 1.5 and 3.3), power is likely being stepping down (likely a buck regulator) to 5V on the card itself (photos showed atleast 4 large surface/TH mounted caps, three shielded inductors and multiple SMD packages it should be able to sustain 5v 3A power delivery, and that's all assuming the Oculus Quest cannot just ask for 12V directly off the PCIe power rail and receive it. (Email me blog (at) mqbx.nl if you want high quality photos or a summary of component markings)
PCIe Lanes:
The chipset and CPU support up to 16 PCI Express Gen 3 lanes; 1×16 or a 2×8 configuration.
I suspect this setup will ultimately run at a gen 2, 1×16+1×4 configuration. With lower graphics requirements (more latency based) for VR and pcie bandwidth mainly effecting load times I suspect their wont be a noticeable drop in performance.
Card Chipset:
ASMedia ASM3242 PCIe to USB3.2 chip is used by the Gigabyte Card. If this works other cards featuring the same or similar line chips should also work.
Variation from original Plan:
We originally purchased the SilverStone ECU06 USB 3.2 Controller Card but after the ETA got updated to +6 weeks away we changed the order to the Gigabyte Card. The Silverstone card did come with a low profile bracket but looked to have not a beefy a power regulator setup (Only a single cap and inductor). As it did not mention its power delivery capabilities explicitly its only hoped it can also deliver 5V/3A.
Delivery Update:
Box for the card has more information then the Scorptec or Gigabyte websites.
Quote "Supports USB Type-C; Reversible plug orientation with 5V/3A power capability" and "USB Port Power: 5V/3A-15W" which confirms its within spec for what the oculus is demanding, be it two tiers higher in required bandwidth.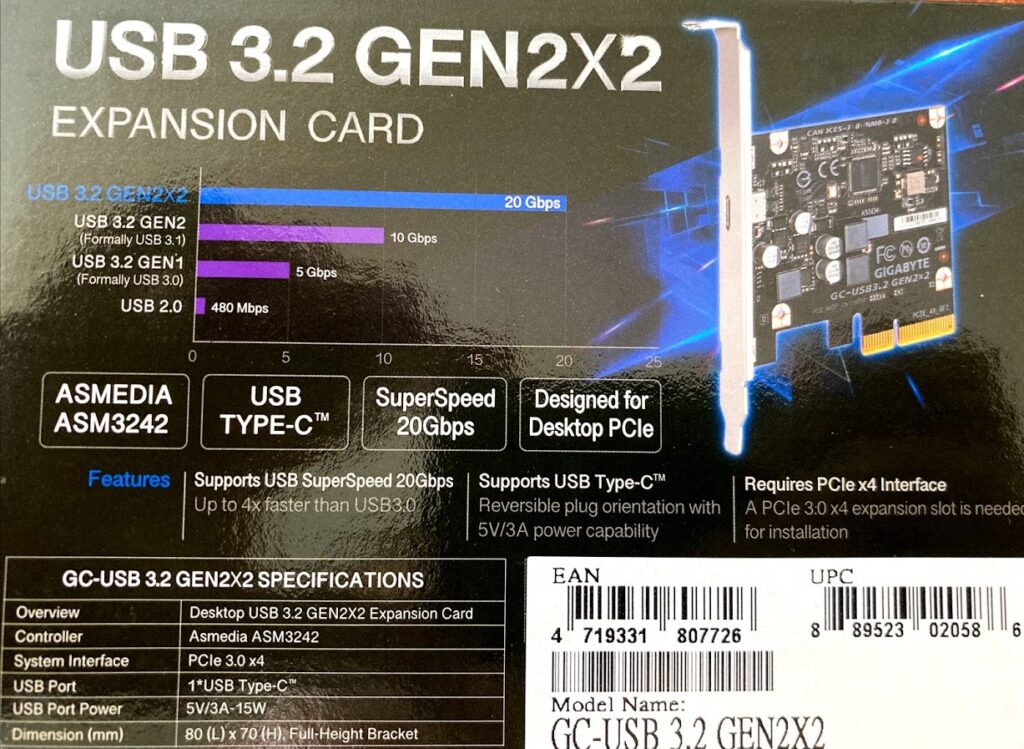 Final Testing went great.
Card installed, system started. No complaints or issues; just detected the card and showed the details in Device Manager.
Connected the Oculus Quest 2 via the Oculus Link USB-C to USB-C Cable and the Oculus App started showing it as connected via "USB 3". The VR graphics being rendered by the computer are definitely higher. The user experience in both clarity of the image and latency are noticeable better with the higher bandwidth available to the headset, and the 3D/VR output graphics on Windows 10 Task manager run around 40% at idle verse the old 15% on the temporary USB2 A to C cable we got from Officeworks.